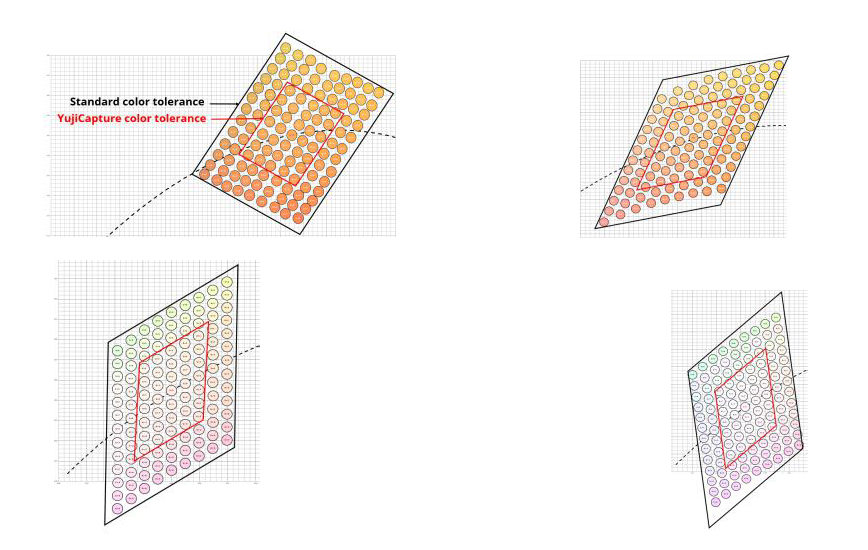 YujiCapture™ White Pape - Introduce All of Parameters about Color Quality and Accuracy Part.1
COLOR ACCURACY
YujiCapture™ chroma solution
A special optimization for photographic lighting.
As widely recognized by the photographic industry, the accuracy of chroma is the top critical factor that affects the lighting quality, even more important than color rendition.
YujiCapture™ optimizes a special selection of color tolerance of 50% more consistent compared to standard LED. Centering on the blackbody locus, YujiCapture™ presents a most ideal white light at different correlated color temperatures to eliminate the color deviation essentially.
Common standards to measure the color of LEDs are SDCM (Standard Deviation Colour Matching), also known as "MacAdam ellipse" and ANSI C78.377-201x. The later sets a 4-step SDCM for fluorescent and halogen lamp. However, most LED manufacturers defines a 7-step SDCM for commercial applications compromising to the cost.
Benefits from Yuji's own state-of-the-art phosphor technology, YujiCapture maintains a 3-step SDCM, where the color deviation is less than 50% of common LEDs. The more concentrated chromaticity presents perfect white light for professional photographer to capture.
Meanwhile, we provide 4 conventional CCTs (correlated color temperatures) in photography and film lighting industry. 2700K and 3200K mimics the tungsten tune, while 5600K and 6500K are the reference of direct and northern daylight.
Feel the difference you will get from YujiCapture compared to other common LEDs.
TrueChroma support
A practical service for evaluating color consistency.
TrueChroma technique helps YujiCapture to achieve even more accurate color when integrating LEDs on PCB.
The key phenomenon is that the chromaticity deviation of LEDs obeys normal distribution (both in x and y direction). According to the law of large numbers in probability theory, the average of results from a large number of trials should be close to the expectation value, and tend to be closer if more trails are performed. The expectation of a normal distribution is "the most middle value", in this case, is the target chromaticity coordinate. Thus, with more LEDs on one board, their average chromaticity coordinate is closer to the target coordinate, which makes emission light more accurate.
TrueChroma ensures that the LEDs we picked up when designing PCB obeys normal distribution and their positions are also well-arranged. Thus, the actual chromaticity range for LED fixtures could be narrow to 1/4 of that of LEDs.
COLOR RENDITION
TrueCRI support
Multiple-dimension CRI assessment, brand-new attitude.
Individual high CRI is inconvincible, LED is always used as a cluster regardless as a panel for soft light, or a Fresnel for hard light. Usually an alleged high CRI score LED on the market is picked as a best result from a batch of production intentionally, which misleads the user's understanding of the real performance of the products. For industrialized production, there is always a distribution of different CRI scores which sometimes confuses users to decide what to choose and what exactly the actual result could be, we help users to improve this uncertainty under control to understand how stable the light performs.
Besides the industrial highest CRI, YujiCapture™ also cares about the industrialized consistency, based on the big data of production, Yuji is first and the only one in the world that introduces the support of TrueCRI™ which collects the average CRI performance with statistical data to provide accurate evaluation assistance for users.
For example, when users choose a batch of YujiCapture™ 2700K LED with the quantity over 10,000pcs, we help to estimate the best Ra will be 99.1, the worst Ra 94.3, average Ra 96.7, and all details of each color render can be evaluated from the charts. And Within this batch, the ratio of Ra > 95 is 98.59%, Ra > 90 is 100%; R9 > 90 is 98.59%, R9 > 85 is 100%.
Introduce TLCI as a standard specification
The metric for photographic specially.
TLCI is an independent metric that evaluates the lighting quality at the television dimension. Compared to CRI, TLCI cares more about camera response and the calculation of TLCI is more focused on the spectrum, where generally the true color rendition always relies on the spectrum. It is possible to get an LED with poor TLCI score but high CRI result, therefore it is necessary to formally introduce TLCI as the YujiCaptur™standard specification to help users distinguish and compare CRI and TLCI to evaluate the lighting quality for photographic lighting more accurately.
Introduce TM-30 as a standard specification
A most comprehensive metric for color rendition.
The TM-30 metric is accepted gradually because of its multi-dimension assessment of color rendition. Compared to CRI, TM-30 picks 99 color evaluation samples from more than 100,000 collected world possible colors. Additionally, TM-30 separates the fidelity and gamut evaluations to present a most objective result. 
YujiCapture™ is the first one that introduces the latest TM-30-18 as a standard specification to help with LED users understand the actual performance with this metric. In a shoot scene that generates complex color environment, the performance with TM-30-18 contributes to a multidimensional evaluation for post production.