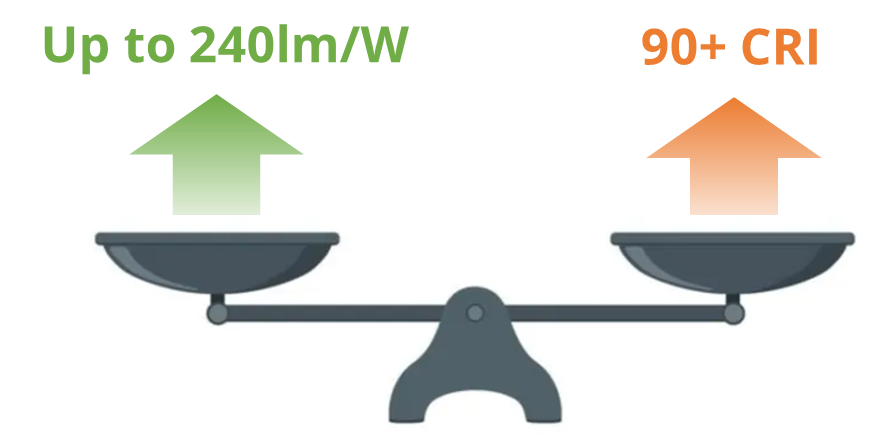 High Luminous Efficacy Technology
Yujileds®
 

HE series LED technology, up to 240lm/W

Yujileds® HE series LED technology aims to provide the high-efficacy LED which are designed to maximize light output while minimizing power usage, making them the eco-friendly choice for both residential and commercial applications.

Based on Yuji's abundant LED phosphor and technology, we have created the HE series from research on the essence of LED luminescence, enabling us to provide LED products with the highest light efficiency up to 240lm/W and appropriate lighting design. The HE series technology helps to achiev A-class of the latest European Product Registry for Energy Labelling (EPREL) and DLC Premium.
Color quality is no longer compromised to high luminous efficacy
Technically, luminous efficacy and color rendition is difficult and contradictory to get both promising. Yujileds® HE series combine Yujileds® high CRI technology make LED overcomes efficacy achieve up to 240lm/W and 90+ CRI when the general high efficacy LEDs are all 80 CRI. Even for pursuing extreme high-efficacy, the CRI should not be sacrificed since it is a nature of illumination quality. Even for the advanced color metric of TM-30, Yujileds® HE series LED performs the same as nominal high CRI LED with Rf 90 and Rg 99.
Redefine lumen per dollar (lm/$)
For general commercial lighting, calculating lm/$ is a common method to evaluate the economic efficiency of LED business and it becomes a measurement for commercialized competitive force. Yujileds® HE series LED provides the promising lm/$ based on its better color quality to help customers win the business and higher profits simultaneously, thus the HE series redefines the lm/$.