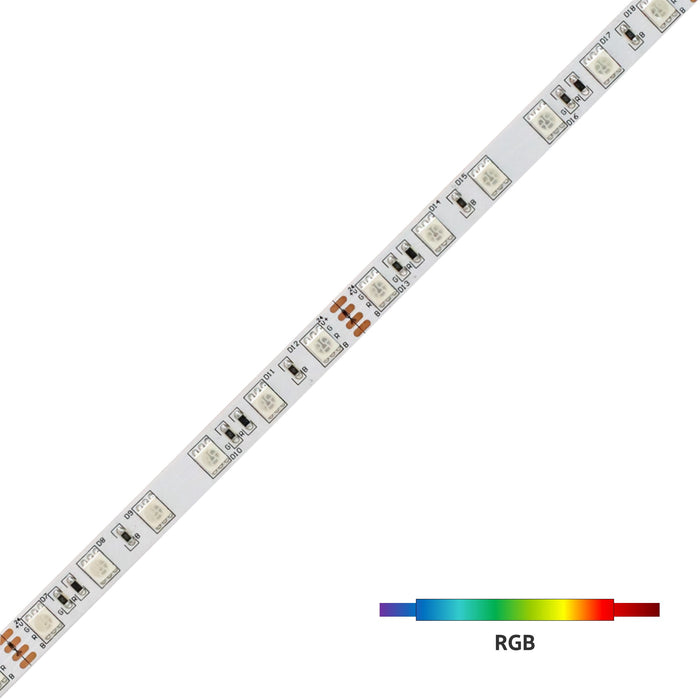 YUJILEDS® 3-in-1 RGB LED Flexible Strip - 60 LEDs/m - 5m/Reel
Sale
Sale
Original price
$55.80
-
Original price
$55.80
Frequently Asked Questions about LED Strip Lights
What is the difference between the 12V and 24V versions?

YUJILEDS offers 12V high CRI led strips and 24V high CRI led strips. They have the same number of LEDs, the same power and light output, just different voltage and
amperage combination.

The difference between 12V LED strip and 24V LED strip is insignificant in some cases. For small installations that require a 12V battery, a 12V LED strip is
recommended. But for larger projects, we suggest you consider 24V LED strips.

One more, if you need a longer line of light from one power supply, a 24 VDC LED strip is a good choice. While higher voltages do not mean a brighter light, 24 VDC is also capable of sustaining higher density LED chips.

12V vs 24V LED Strip: What is the difference and which one to choose?
Do these led strip lights require heatsinking?

Heatsinking is not necessary if product is used in standard indoor environments where ambient temperatures do not exceed 50ºC.However, they will heat up significantly during operation. The aluminum channels help dissipate some of the heat.

Notice:
Our aluminum channels are suitable for 10mm wide LED flexible strips.
What is the difference between IP20, IP65 &IP67 in led strip light?

The IP rating consists of 2 numbers. The first number refers to protection against solid objects (such as dust), and the second number refers to protection against liquids.

IP20: Most of YUJILEDS light strips have an IP rating of 20, which means they are suitable for all indoor dry applications use and are resistant to prying fingers.

IP65=Water resistant. "Protected against water jets from any angle". With an IP65 rating,
the LEDs can be used in an outside setting and are waterproof but they are not
suitable to be submerged.

 

IP67=Water
resistant plus. "Products can be submerged up to 1m in water for up to 30
minutes."*Do NOT submerge IP67 LED lights for extended periods.
Which color temperature should I choose?

CCT (Correlated color temperature) refers to the color temperature of light, and is measured in Kelvin (K). Different temperatures on the Kelvin scale represent different colors.  

Warm white (1800K-3200K) creates a warm and comfortable area. It is generally used in rooms where everyone gathers to visit or relax (living rooms, bedrooms, dining rooms, etc.).

Neutral or natural White (4000K-5000K) creates a natural daylight effect. This is the best-selling strip as it mimics natural light and can be used comfortably anywhere in the home. 

Cool white (5600K-6500K) casts a bright and fresh glow. Cool white is great for task lighting as it is a brighter and more focused light. The cool bright colors are used the most in bathrooms, kitchens, and workspaces.
How to choose a power supply for your LED strip?

When choosing a power supply for your LED strip, it is a good idea to leave an additional 25% power capacity above the power requirement of the strip, so as
to extend the life of the power supply and keep it cool to prevent overheating.

For example, a 5-meter YUJILEDS 2835 120 LEDs strip would require 5 meters x 18W/meter = 90W; for power supply stability, we would recommend a power supply that is capable of supplying at least 112.5W (90W + 25% * 90W). This means you need a power supply unit with a minimum output of 112.5W at 24V DC.