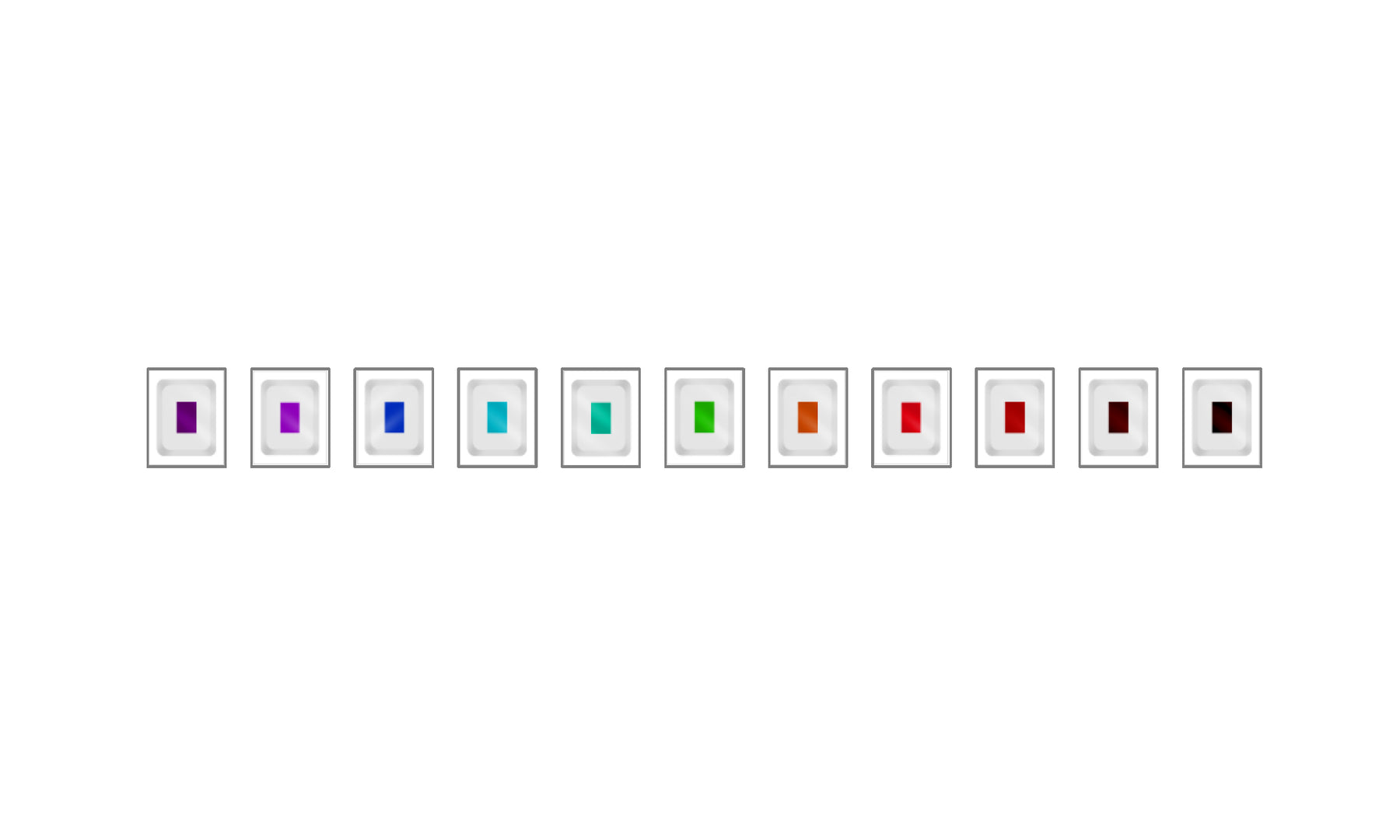 Single color 2835 series LED & flexible strip
The SX2835 series monochromatic LEDs are the supplement products for Yujileds® high CRI white light 2835 and the integrated R/G/B LEDs.
Compared to the Yujileds® integrated RGB 5050, 5054 and 3535, the monochromatic 2835 series LED offers more flexible definitions for different and single wavelengths. Starting from UV, ending to IR, the SX2835 series covers the full wavelength of 370nm-940nm. Within the visual range, SX2835 aims to provide consistent and saturated chromaticities for full-color gamut. for the non-visual range, SX2835 offers both UV and IR options for specific lighting applications. The SX2835 series LED contains or will contain:
Figure 1 shows the color gamut with the representative SX2835 LEDs for the visible light in CIE 1931.
Figure 1. The color gamut for some representative SX2835 LEDs.
Customization
Yujileds® offers the service of customizing specific wavelength or wavelength range for different requirements accordingly and offers the flexible strip product mounted with different SX2835 series LEDs.
The SX2835 series LED is rated at 60mA, in addition, Yujileds® also provides the 3030 packages for high current versions of 150mA or 300mA according to the supply chain status.
Flexible strip
Yujileds® also provides the flexible strip with the options of the monochromatic LEDs accordingly, the design of the circuit is based on the efficiency optimization.
The flexible strips are extremely versatile and easy to install. The strong 3M adhesive backing is included. Saturated color and high lumen output can provide vivid color anywhere you need.
*Yujileds® currently offers red (630nm), green (520nm), blue (450nm) and purple (400nm) as regular products, other colors of products will be made-to-order, and the stability of specific wavelength depends on the supply chain.
Go to the product page for more information or contact us at webstore@yujigroup.com for custom requests.
SpectrumX™ Monochromatic Red 2835 LED SMD
SpectrumX™ Monochromatic Green 2835 LED SMD
SpectrumX™ Monochromatic Blue 2835 LED SMD
SpectrumX™ Monochromatic Violet 2835 LED SMD