4 Best LED Strip Light Bedroom Ideas
Bedroom lighting, in addition to providing a soft light source to make people sleep comfortably, also helps people relieve weariness caused by busy work and life, then creates a soothing home atmosphere. Decorating your bedroom with LED strips not only allows your design to reflect your unique taste, but also creates a calm, pleasant and romantic environment for you.
When buying LED lights for the bedroom to create a comfortable and warm atmosphere, we need to pay attention to the selection of the color temperature (from warm to cool) for the LED strip.
Warm white light gives off a soft glow. Lights at cooler CCT (5600K/6500K) create an intense environment that is not conducive to relaxation. Blue and cold white lights tend to improve alertness and reduce sleep.
When lighting a bedroom, YUJILEDS recommend using warmer LED lights in the 1,800 K to 4,000 K range.
Here are some ideas for bedroom LED strip installations that we think would make your house more comfortable.
1.LED Strip Lights Under the Bed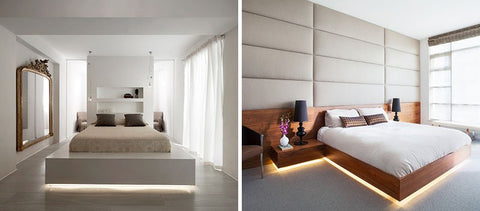 Hidden installation of LED strips under a bed for lighting is practical and beautiful. LED strips under the bed create a futuristic look while also providing a pleasant and romantic ambiance.
Hidden lighting under a bed has a softer light, which will prevent eye discomfort if you browse on your phone before going to bed at night. If you have to get up in the middle of the night, the light also provides a nice calming light that doesn't flash in your eyes and disturb your sleep.
YUJILEDS RGB LED strips and high CRI white LED strips are very suitable for the bedroom lighting. The RGB LED strips can give people a sense of vitality, and our warm white LED strips can give you healthy lighting with high CRI.
CRI-MAX™ CRI 95+ LED Flexible Strip 1800K-3200K
CRI-MAX™ CRI 95+ Dim to Warm LED Flexible Strip 1800K-3000K - Human Centric Lighting
SunWave™ CRI 98 LED Flexible Strip 2700K 3200K
2.LED Strip Lights Behind the Bed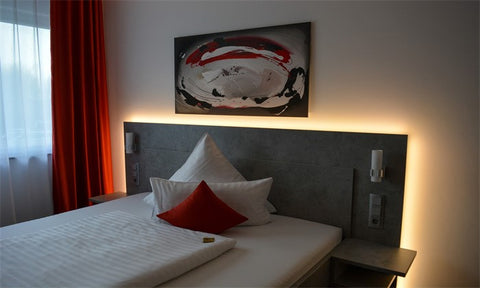 Hiding the LED strips behind the headboard is also a good ideal of bedroom lighting. The light refracted behind the headboard makes the bed more three-dimensional in appearance and creates a warm and romantic bedroom atmosphere for the room.
CRI-MAX™ CRI 95+ LED Flexible Strip 1800K-3200K
CRI-MAX™ CRI 95+ Zig Zag S Shape LED Flexible Strip 2700K - 60 LEDs/m
3.LED Strip Lights in the Ceiling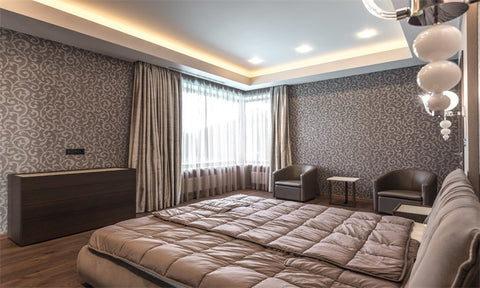 Inserting LED strip lights in the ceiling of the bedroom is also an extraordinary idea. This lighting method can hide the ceiling lights and let the light source illuminate the ceiling indirectly through reflection. By breaking the depressing space caused by the dim ceiling, the combination of light and dark can enhance the layering of the bedroom.
Using YUJILEDS SunWave Series LED strip lights can improve people's happiness and reduce depression. Exposure to full spectrum light also helps people sleep well as it makes the body produce melatonin.
SunWave™ CRI 98 LED Flexible Strip 2700K 3200K
4.Behind the TV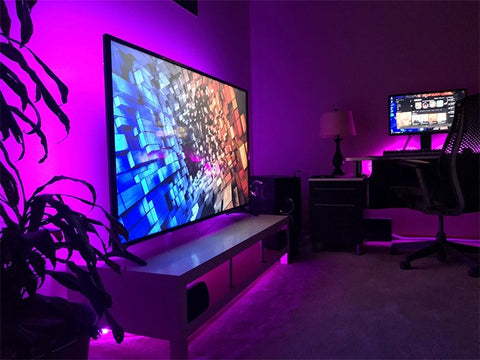 LED light strips can also be installed behind the TV in the bedroom for decoration, which can not only bring some atmosphere to our bedroom, but also have enough light to avoid eye fatigue. 
YUJILEDS® 3-in-1 RGB LED Flexible Strip - 60 LEDs/m
YUJILEDS® single color flexible LED strips
Design your bedroom with LED strips that both create ambience and provide useful lighting. They can be placed everywhere in your bedroom that you can think of.
YUJILEDS LED strips represent the highest quality in the industry. Our mission is beyond just illumination. We are devoted to providing best light quality products and professional services to our customers.